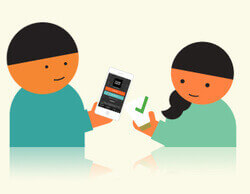 STAY IN TOUCH AND SIGN UP TO GET UPDATES
WHAT THE OTHERS ARE SAYING
Janet Nudelman & ChloeMeagan
"With a tool like Think Dirty, consumers can help find and promote good companies that are using nontoxic ingredients. You shouldn't have to be a toxicologist to know how to find safer products."
- Janet Nudelman, Campaign for Safe Cosmetics
"Incredibly useful app! I always considered myself a person who used natural and environmentally-friendly product until I downloaded this app. It is eye-opening to say the least. I can't wait to see more products added!"
- ChloeMeagan, Think Dirty App User
Karina Birch & thinkingclean
"I love knowing the health impact of what's on my bathroom shelf. Every consumer of beauty products needs this free app.
- Karina Birch, Founder of Rocky Mountain Soap
"Awesome! I have numerous allergies and I checked Think Dirty before I buy any new product and have found it useful. Don't know what I would do without it now."
- thinkingclean, Think Dirty App User
Kyle Shearer & ttdoublenk
"It helps me make informed choices on products that I am bringing home."
-Kyle Shearer, TED Blog Staff
"Time saver and life saver. Amazing!! I used to Google each ingredient in my products before purchasing to make sure they weren't harmful. Now I have an app that does that for me AND recommends a natural product... I just got to start getting my daughter's fathers to start using it."
-ttdoublenk, Think Dirty App User
Fast Co. & KevMacdod
"Tse's quest for greater transparency is personal. Her mother is a breast cancer survivor, so she's sensitive to hidden dangers in the products around us."
"So handy! Immediate answer to the burning question - is this bad for me? Have thrown a lot of things out now knowing what to buy instead."
-KevMacdod, Think Dirty App User
Ecouterre & Shoplesslivemore
"Buying safe cosmetics has never been easier."
"Love this when shopping. This app is great as it makes things so much easier when trying to decide on a product in store. In the past I felt like I had to stand in the aisle for 30m trying to look up ingredients etc. This app breaks thing down so simply and you can spend less time in store."
- Shoplesslivemore, Think Dirty App User
Brit + Co & Janey6549
"Think Dirty is an app that makes figuring out exactly what you're slathering on your face, lips, bod (and, yikes, then washing down the drain) as easy as snapping a picture."
"I am amazed at how many popular brand name products are full of chemicals. I have stopped using them. Thank you for opening my eye to natural clean products for my body. I love using this app as a resource before buying!"
- Janey6549, Think Dirty App User
Bill Baker & KimbaC
"Lily and the team are doing a phenomenal job on an important app. This is something everyone who cares about their health should have in hand when they go shopping for personal care products!"
- Bill Baker, CEO, Consonant Body
"My favorite app! I don't know what I would do without this app. It's absolutely amazing and has inspired me to live a cleaner life."
- KimbaC, Think Dirty App User
Nadeyah & Luis756
"As someone who has past horror stories of using product that caused my skin allergy, Think Dirty is an app that I have been waiting for so long. It will let me know all the ingredients in the products, so I won't have to be a human guinea pig for new products. It will be a saviour for people like myself who has bad experience of using the wrong product for undisclosed ingredients. Looking forward to the launch of this important app!!"
- Nadeyah Kailan, Director Events and Sponsorship of Interactive Advertising Bureau of Canada
"Life changer. This app will make you more conscious of all bad chemicals that we absorb daily through our bodies. It has opened my eyes to true chemical-free brand and unveiled well-known brands that pretend to be."
- Luis756, Think Dirty App User
Ruby Rose & desiremap
"What changed my routine and really my life is the Think Dirty app."
"Awesome! Love to know what is bad for you. So many big words and it rates it all. Thank you for creating something like this."
- desiremap, Think Dirty App User
The Atlantic & Meaggymoo
"An App That Helps You Find the Safest Make-up."
"Wow! All I can say is wow I scanned some of my product and most of them scored high on the dirty level. I didn't realize just how much junk is in that stuff. I plan on swapping some of my products for cleaner ones recommended in the app."
- Meaggymoo, Think Dirty App User
WE SPOT DIRTY AND CLEAN ON INSTAGRAM
RECOGNIZED BY
FEATURED BY
PARTNERS
AS SEEN ON
SUPPORTERS